WHAT YOU NEED TO KNOW
Getting pre-approved for a mortgage loan is the right first step in buying a house, financially and emotionally. You will find out exactly how much home you can afford to spend based on your income, debt, and other factors. Getting pre-approved also includes the interest rate you'll pay on the mortgage loan. will help you lock in a good interest rate and places you in a stronger bargaining position with the seller once you find the home you want.
Pre-approval places you in a stronger bargaining position with the seller once you find the home you want. The lender prints you a pre-approval letter for your reference, and funds are available as soon as a seller accepts your contract.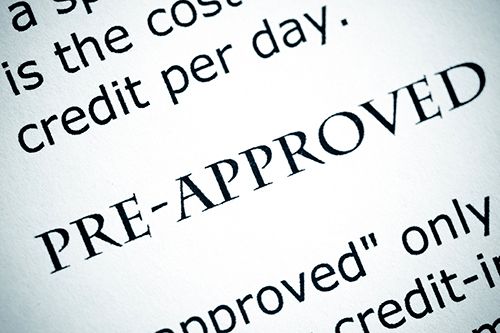 Here are the most common items requested when getting pre-approved:
•
Social security number —
for anyone who is on the mortgage loan. We will need this to verify your identity, and also to pull your credit.
•
Proof of employment —
We will need to verify your employment, because it relates to your ability to repay the loan.
•
Proof of income —
Your two most recent pay stubs, or the electronic equivalent, that shows your year-to-date earnings
•
Tax documents —
This is a standard document for mortgage pre- approval. We will need to see your W-2 statements and tax returns for the last two years.
•
Place of Residence
•
Bank account information —
When you apply for mortgage pre- approval, the lender will want to know how much money you have in the bank. They need to ensure you have sufficient funds for your closing costs, down payment, and cash reserves (if applicable). They will most likely ask you for account statements and balances for any checking, savings, or money market accounts. This is another standard mortgage document for pre-approval. All lenders require this.
•
Credit information —
Knowledge of outstanding loans that you're currently repaying (car loans, student loans, etc). We need this information to measure your debt-to-income ratio.
•
Gift letters —
Are your family members going to help you with your down payment? If so, you need to provide a gift letter along with your other mortgage documents.
•
Monthly expenses
•
Self-employment documents —
Do you run your own business? If so, we will ask you to provide some additional documents during the mortgage pre-approval process. This might include balance sheets, a profit-and-loss statement, or federal tax statements for the last two years.
We will print you a pre-approved letter for the maximum for which you are qualified. As soon as the seller accepts your offer, you know you're ready to go!
Get pre-approved and start comparing loans.


Let us work to help you!
Contact Us
– TODAY!